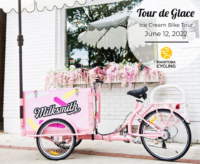 Grab a friend and your bike, let's go get ice cream!
The Manitoba Cycling Association is pleased to host another year of the Tour de Glace, ice cream bike tour. Registration includes a guided group ride with 2- or 3-stop options to some excellent local ice cream shops for a prepaid treat. This event is open to all, you do not need to be a member of the Manitoba Cycling Association. Families and youth are welcome to join!
The ride begins at the Forks CN Stage on Sunday, June 12 at 2:00 pm. Please arrive at 1:45 pm for event check in, to meet your ride leader and get your ticket to prepaid ice cream. The ride will finish up at the Forks again by 4:00 pm.