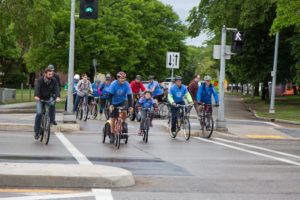 Bike Week 2019 is a wrap- and what a great week it was. Check out our final report to read about all the great events that took place. Bike Week 2019 Final Report
Bike Week 2020 will be June 8th – 14th and we are already excited for it!
We've come a long way since the first Bike to Work Day in 2007 and we are looking forward to making Bike Week 2020 another great week of bike activities and events.
Bike Week is a week long celebration of the bicycle and everyone that rides. We like to say "it's for everyone" because we aim to provide something for every type of cyclist. Whether you ride for recreation, fitness, transportation, sport, or just for fun, if you enjoying riding a bike, Bike Week is for you!
Bike Week Winnipeg with the help of our many partners, community groups and even individuals host group rides, workshops, leisure and cultural events that encourage all Winnipeggers to get on their bikes and ride. Events are held in every corner of the city, so watch our schedule as it grows for activities and events in your area.