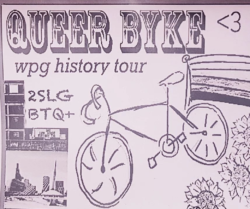 A Winnipeg history cycling tour by Wheels of Courage alumni Allis Kolynchuk.
Wednesdays in June, 7pm, starting from the WRENCH Kiosk at the Forks ! (Arrive at 6:40pm for bike decorating/quick bike adjustments!)
Join Allis on a 90 min cycling tour of Winnipeg's queer history locales during Pride month. This tour is free, open to all ages, and the route is planned to support as much safety and ease as possible. Please wear your helmet!
Allis has compiled a tour of that includes social, legal, political and Indigenous queeries which span over the previous century of our 2SLGBTQ+ community experience. Enjoy facts and intrigue about locations throughout central Winnipeg. Listen to fabulous stories ranging from well to lesser known.
Everyone will leave with a QUEER BYKE Wpg History Tour zine, a well researched, referenced, and illustrated 24 page tour guidebook, compiled by Allis themself!
Need a bit of air in your tires or a touch of brake tightening? WRENCH mechanics will be on hand prior to tour departure to help. Please arrive generously early so we can properly attend to what's needed.
Sign up at thewrench.ca. Each tour will be limited to 20 participants.
Images from/included in Allis' zine, and sourced from the Manitoba Historical Society and the University of Manitoba Gay and Lesbian Archives.