Bike to Work Day 2022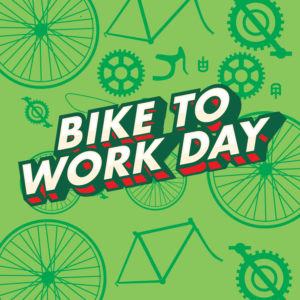 All Winnipeggers are invited to get on their bikes and ride to work! 
Enjoy free refreshments and comradery at the many pit stops across the city as you ride to work.
6:00 AM – 9:00 AM: Bike To Work Day Pit Stops
Stop in at any of the pit stops around the city and enjoy the company of other people on their bike ride to work. Hosted by a variety of different organizations and communities these pit-stops offer a variety of food, drink,  prizes. We'll have people at most pit-stops ready pump up those tires or add a little lubrication to your chain and in some cases minor bike tune-ups as well. 
9:00 AM – 2:00PM: All Day Pit Stop at The Forks presented by MPI
Visit Bike Week Winnipeg and MPI for a cinnamon bun from Tall Grass Prairie and a high five throughout the day, at The Forks. The All Day Pit Stop is located just outside the Forks Market by the train cars. Valet your bike and step into the Forks for a tasty treat, or lunch!