Charleswood to Downtown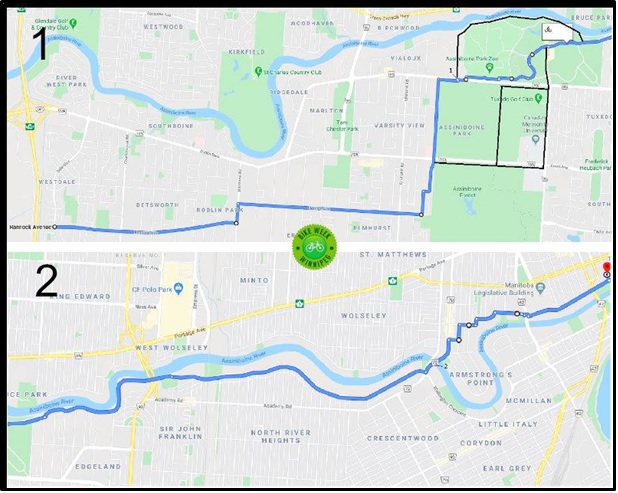 Route Details
Rannock east to Harstone, north to Eldridge.
Eldridge to Whitetale, north to Chalfont and follow Chalfont across Grant to Roblin
Alternative: take Multi-use path (MUP) west along Grant and take one of two MUP's to Roblin (in black)
At Roblin and Chalfont take MUP east to crosswalk (1)
Turn right and head west through the zoo parking lot and follow the road through the park and exit onto Wellington Crescent.
Alternate: You can take the MUP through the park but with the number of pedestrians it is likely better to stay on the road.
Follow Wellington to Academy and turn north over the Maryland Bridge.
You can use the shy lane (its not a bike lane) over the bridge that leads to the Sherbrook Street bike lane.
Turn east on Wolseley, north on Furby, east on Westminister to Granite Way.
East on Granite to the Osborne bike crossing and continue east on Assiniboine to Garry.
Link to Goggle Map – https://goo.gl/maps/43Vgf7rteyqEMJkLA