Crestview to Downtown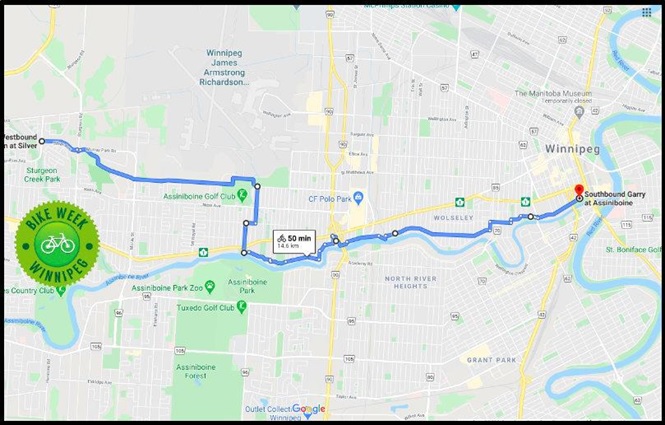 Route Details
Follow the Yellow Ribbon Trail until you reach Silver
South on Linwood (lights at Ness -1), west on Bruce, south on Overdale into Assinboine Park.
Take the path on your left before the bridge, east to Deer Lodge Pl. through Bruce/Bourkvale Parks to Assiniboine.
Alternate; Cross the bridge and take the Charleswood route. (2)
Follow Assiniboine to Parkside Dr to Riverbend Cres.
When you reach Portage turn right and follow Wolseley West through the Herzing parking lot (3) (some rough pavement here  – 4) and follow to the multi-use path (MUP) at Tyleherst.
Follow the MUP through Omands Creek and across the bridge to Wolseley.
Follow Wolseley east to Furby, east on Westminister and follow east to Granite Way.
East on Granite to the Osborne bike crossing and continue east on Assiniboine to Garry.
Link to Google Map – https://goo.gl/maps/uNzPqz7gjNAaXCvz5