Hosted by: Justin Bear and Adrian Alphonso | Presented by Bike Week Winnipeg
Download the tour on the Driftscape App HERE.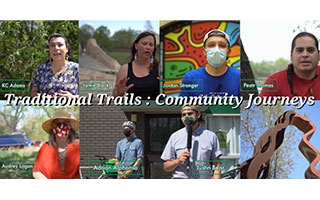 Traditional Trails: Community Journeys, presented by Bike Week Winnipeg, is a self-directed, virtually enhanced bike ride celebrating people, place and space in Indigenous communities. Hosted on the Driftscape App, riders follow a predetermined route to interact with videos along the way animating unique stops. Follow hosts Justin Bear and Adrian Alphonso as they highlight 7 individuals and organizations that empower and support Indigenous people.
Stop 1: Momenta | Justin Bear & Adrian Alphonso
Justin Bear L'Arrivee is a Cree and Métis graphic designer and community worker. My passion is revitalizing community through youth programming, marketing for not-for-profits and social enterprise, and supporting indigenous movements. He's a graduate of Urban and Inner-City Studies at the University of Winnipeg and has worked closely in the not-for-profit sector at organizations like The W.R.E.N.C.H., Circle of Life Thunderbird House, and Martha Street Studio.
Director of Clear Paths at Momenta Inc. Adrian is a Band and Community Member of Waywayseecappo First Nation, is passionate about Indigenous perspective cycling programs, and leads on Treaty One Territory land, to honour truth and reconciliation. At Momenta, Adrian delivers inclusive, accessible cycling programs with the goal of inspiring a connection to the land. He has devoted his life to a journey of discovering. He is a commuter, a coach, a professional stunt rider (Trials), a bicycle technician, a passionate guide and devoted his life to a journey of discovery.
Momenta creates experiences that discover strengths and foster growth. Learning from the connections that are a result of shared experiences.
Momenta is a small, local business and a certified B Corporation, meaning, they have met rigorous standards of social and environmental performance, accountability, and transparency.
They use current, best practice research in the field of youth development, social work, adventure therapy and experiential education to ensure that clients are safe, engaged, find meaning and feel challenged. They integrate a strengths based perspective, Momenta's values, TRC calls to action and radical inclusion in all aspects of the work done at Momenta.
Stop 2: West Broadway Skills Park | Adrian Alphonso
Stop 3: Klinic Teaching Garden | Audrey Logan
Audrey is a Nehiyaw (Cree)/Metis woman from Northern Alberta and is experienced with permaculture and regenerative gardening techniques. She leads the group "Dehydration Nations", a grassroots, indigenous-led initiative to empower individuals and communities to harness the traditional method of food dehydration and pair it with nation-to-nation trade as a way of promoting food sovereignty in Treaty 1 territory and beyond. She also founded a regenerative community garden in West Broadway, and regularly shares her knowledge of traditional agricultural practices with the community. You can find more information and free teachings and workshops via the Facebook page "Klinic Garden Group".
Stop 4: Nimama | KC Adams
KC Adams is a Nêhiyaw, Anishinaabe and British artist living in Winnipeg. Adams graduated from Concordia University with a Bachelor of Fine Arts and she works in mediums that includes: sculpture, installation, drawing, painting, photography, ceramics, printmaking, kinetic and traditional art. The past 21 years Adams has been in numerous solo, group and duo exhibitions and artist residencies. Adams was awarded the Winnipeg Arts Council's Making A Mark Award and Canada's Senate 150 medal recipient for her accomplishments with her Perception Photo Series. KC may be a successful artist, but one of her favourite things to do is to teach the next generation.
Stop 5: REDdress Project | Jaimie Black
Jaime Black is a multidisciplinary artist of mixed Anishinaabe and European descent. Black's art practice engages in themes of memory, identity, place and resistance and is grounded in an understanding of the body and the land as sources of cultural and spiritual knowledge.
Stop 6: Totem Doodem Murals | Jordan Stranger
Pencil, paint, or digital, Jordan Stranger communicates the importance of life, culture and acceptance. Jordan's works are deeply rooted in the traditions within contemporary Indigenous culture. "Life is about happiness. My work is an example of searching for it." As an Oji-Cree individual, Jordan uses his life experiences to drive his artistic passions. He obtained his diploma in Graphic Design at Red River College in 2012 and has worked on various artistic/design projects. Today he continues his work as a full-time self-employed artist and still finds time to work within his community.
Stop 7: Tanisi keke totamak — Ka cis teneme toyak | KC Adams
Stop 8: Whittier Park | Peatr Thomas
Indigenous to Turtle Island, Inninew (Swampy Cree) and Anishinabe (Ojibwe) is the identity of Peatr Thomas. Pimicikamak and Miskooseepi are his home lands.
He is a self-taught full-time multidisciplinary artist based in Winnipeg. Art, culture, tradition, and being on the land is a way he copes with the recycled trauma that is passed down from Canada's Residential School Systems. He believes being physically active, and expression through visuals are an essential part of what it means to be Indigenous. As well as sharing the teachings we are taught, as well as ones we have learned and are learning. These teachings will especially help Indigenous peoples for we have lost so many and will help peoples of all.